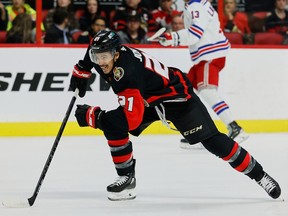 Article content
Ottawa Senators winger Mathieu Joseph has accepted his punishment for breaking a team rule and is ready to move on, desperately hoping to rediscover his lost confidence and scoring touch in the second half of the season.
Article content
Joseph was healthy enough to return from his lower body injury Wednesday against the Pittsburgh Penguins, but in a bold move that raised eyebrows across the NHL, the Senators opted to make him a healthy scratch in what ended up as a 5-4 overtime victory.
Article content
The decision meant that Joseph, 25, didn't play against his brother, Pierre-Olivier, a 23-year-old defenceman with the Penguins, for the first time in the NHL. A group of 50 family and friends were at Canadian Tire Centre, ready to watch the Joseph-Joseph showdown that ultimately didn't happen.
Article content
"This was an internal thing," Joseph said following Thursday's optional morning practice before the club flew to Pittsburgh for Friday's rematch against the Penguins. "Obviously, I (made) a mistake and I was ready to assume the consequences of it. This is on me and it's my responsibility. I think I know I can be better and I will be. I'm an adult. I can deal with this. I think it's part of hockey and it's part of life and I'm ready to move forward and I'm excited to get back in the lineup."
Article content
Neither Joseph nor Senators coach D.J. Smith elaborated on precisely what happened with Joseph earlier in the week, but clearly, Joseph paid the price for conduct that ran against team policy.
"It has kind of been blown out of proportion, but it was a non-hockey issue," said Smith. "He sat his game and we welcome him back with open arms and we need him."
Considering the circumstances involving Joseph and his brother, Smith says it was a difficult decision, but that discipline was absolutely necessary.
"It's hard," said Smith. "I think everyone knows that I care for the players, I think every coach does. That's a special moment for their parents to watch the boys play against each other, but I guess all I will say on that is that you've got to do what's right by the hockey team and the team comes first in every scenario. And if that isn't the case, then situations like this may arise. It is an unfortunate situation, but we're moving on from it and I need (Joseph) to be a real good player for us."
Article content
As luck would have it, the home-and-home series with the Penguins means the brothers will get a chance to go head-to-head on Friday. A smaller group of family and friends will be on hand for the game in Pittsburgh.
"I haven't played against him in awhile and the last time was in the American Hockey League," said Joseph. "It's an exciting time for my family, an exciting time for all of us. It has been a childhood dream for me and my family."
In the bigger picture of re-establishing himself as a presence in the Senators lineup, Joseph is anxious to showcase the impact he displayed when he arrived from the Tampa Bay Lightning following last year's trade deadline deal that sent Nick Paul the other way.
Joseph scored four goals and eight assists in 11 games with the Senators, prompting general manager Pierre Dorion to sign him to a four-year, $11.8 million contract last summer.
Article content
The 2022-23 season has been something else altogether. Before suffering his injury in a 4-3 overtime loss to the Dallas Stars on Dec. 8, Joseph had scored only two goals and seven assists in 25 games. Along the way, he struggled with his confidence and lost playing time.
"Every time you come back from an injury, you want to have an impact on the game," he said. "I just want to play my game, play my full 60 in the right way. I just want to execute the system well, play my game the right way and help the team get as many wins as we can the rest of the year."
He acknowledges there have been far too many nights where he wasn't at his best.
"I can be a little more consistent in my game," he said. "There are some nights I clearly didn't feel well or didn't show up as much as I wanted to. And I'm going to have to bring that every game. I'm usually a better player in the second half of the season and I got to work out a lot in those six weeks and I feel pretty good."
Article content
For now, Joseph will play on a line with centre Shane Pinto and either Parker Kelly or Derick Brassard. But when Joseph is at his best, creating problems for the opposition with his speed, he gives Smith an option to play him somewhere on the top two lines.
"We just want him to get back to where he was," said Smith. "When he came here a year ago, he had lots of confidence and he was making plays. Sometimes, you come in, you get a new contract, you try to do too much. He has been injured and dinged up. We are going to try and get him going here and we know he certainly can help us be a better team."
The Senators need to find every edge they can to have any hope of seriously challenging for a wild card spot. Even after Wednesday's win over Pittsburgh, they sit eight points behind the Penguins, who owned the final playoff position before Thursday night's games. Another five teams stand between the Penguins and Senators.
Joseph's wait to make a difference ended up being a lot longer than originally expected.
"It has been pretty brutal to be sidelined like that, seeing the guys battling every night and not being able to help the team," he said. "At the end of the day, that's what I love to do. I'm a passionate guy about playing hockey and I' really excited to get out there with the guys."
WARRENSPIECE: The Senators lucky charm carries them to victory

GARRIOCH: NCC confident it will have a lease for LeBreton Flats in place with Senators new owner by fall