Ever since Simone Biles and her boyfriend, NFL star player Jonathan Owens, announced that they are now officially engaged, friends, family, and fans have been ecstatic. Since then, the speculations regarding their wedding dates have been doing the rounds. Even though Biles and her family remain tight-lipped on the same, it is expected that the celebrity couple will tie the knot before the 2023 NFL season.
Thus, with little time left, the gymnastics maestro is always on her toes, making sure things go perfectly. Though she refuses to dive into the details, she occasionally shares a sneak peek. Sharing one such important update, the bride-to-be takes to her official Snapchat profile.
Simone Biles shares an interesting pre-wedding update 
ADVERTISEMENT
Article continues below this ad
The to-do list for the 25-year-old is pretty lengthy. From deciding on the venue to selecting the shoes, she has her hands full. Finally, the new aunt gets time for her hair and makeup trial. She recently shared a quick update earlier today and posted a short clip on her Snapchat story.
In the posted clip, the gymnastics maestro was heard saying, "I am super excited because I am about to do my hair and makeup trial and then go try on my dresses." Beaming with joy, needless to say, Biles looked excited for the day. Dressed in casuals, she was seen wearing a signature neckpiece and had her hair kept open.
Sharing small details from the day, later on, Biles posted a picture of her lunch. The Olympian also posted a picture of some delicious-looking pastries to make the fans happy. But that was not all from Simone's end. Updating fans about her makeup trial Biles gave all a little insight.
More updates from Simone's end
ADVERTISEMENT
Article continues below this ad
Following her usual drill, even though Simone refrained from sharing any product details, she teased fans by saying, "I do have a couple of pictures that I might post." Dressed in a white robe, Simone had her hair beautifully done. As she recorded the video message for her fans, she looked radiant.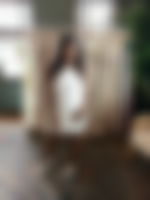 Making things more exciting, she further revealed, "I also got to meet the designer of my dress today, which I was not expecting, so that was very much of a surprise." Needless to say, the wedding preparations for Biles and Owens are in full swing. Though fans get occasional updates from the bride's end, it's a wonder what Owens will wear for the big day!
ADVERTISEMENT
Article continues below this ad
Watch This Story: Power couple Simone Biles and Jonathan Owens paired up in matching attire on Christmas eve
So, what do you think about Simone and her big day? Do share your thoughts with us in the comments section.