The Hunger Games is one of my favourite series of all times. The book trilogy topped every bestseller list out there, and the movies catalyzed the YA Dystopia craze of the 2010s. If you aren't already familiar, here's the synopsis: in what is left of a war-torn North America, the Capitol of Panem maintains control over its districts by requiring each of them to send 2 tributes to participate in an annual competition known as the Hunger Games. Every citizen must watch the tributes fight to survive until a sole victor remains.
The story follows a young woman, Katniss Everdeen, through her journey as a tribute in the games, and later as a rebel against the oppressive government. At its heart, it's a dark tale about power and exploitation. Author Suzanne Collins provokes us as audience members to question our own role. Are we citizens of the Capitol, desensitized to and entertained by violence? Or do we imagine ourselves as tributes from the districts born into a ruthless capitalistic system?
Personally, it led me to an even more important question: if I had to battle to the death in the Hunger Games, which makeup products could I count on? Here's what I came up with:
1. "Benetint" Lip and Cheek Stain – Benefit Cosmetics
This product has stood the test of time. Originally released almost 50 years ago in 1976, this liquid stain was designed for exotic dancers as a nipple tint (I'm not joking). A little goes a long way – just one swipe leaves a cherry red stain for hours. I imagine that it would stay put through the gruelling physical demands of outliving my peers. Not only is Benetint long-lasting, it's also multipurpose! It looks great as a lip colour, blush, and although not advertised for this purpose, an eye shadow. Tributes can't carry much with them, so it's an obvious advantage that Benetint can cover multiple bases.
2. The Rocket Volume Express Waterproof Mascara – Maybelline
One of my New Year's resolutions was to start replacing my mascara when it expires (instead of when it runs out, years after opening it). This drugstore gem has become a staple in my makeup bag. At $8.99, it's cheap enough that I don't feel bad replacing it more often, yet still a quality waterproof mascara that doesn't smudge throughout the day (or while hunting for food and shelter, I assume.) It's non-clumping, and as the name suggests, delivers some serious volume. Since tributes rely on sponsors to purchase life-saving goods for them during the games, the price point of this product makes it a winner. I wouldn't want to waste my sponsorship funds on anything too fancy.
3. Milk Holographic Stick (Mars) – Milk Makeup
Highlighter is a Finnick-y thing. I find this cream highlighter is extremely light reflecting without being too greasy on my skin. "Mars" (a warm, peachy-gold shade) is subtle enough to wear during the day, and buildable enough to glam up for the night. It took me years to run out of my first Milk Makeup highlighter—and it was just the mini size. You never know when danger will strike in the games and a hidden camera will broadcast your face to all of Panem. If I need to be camera-ready at any moment, this holo stick is doing the trick.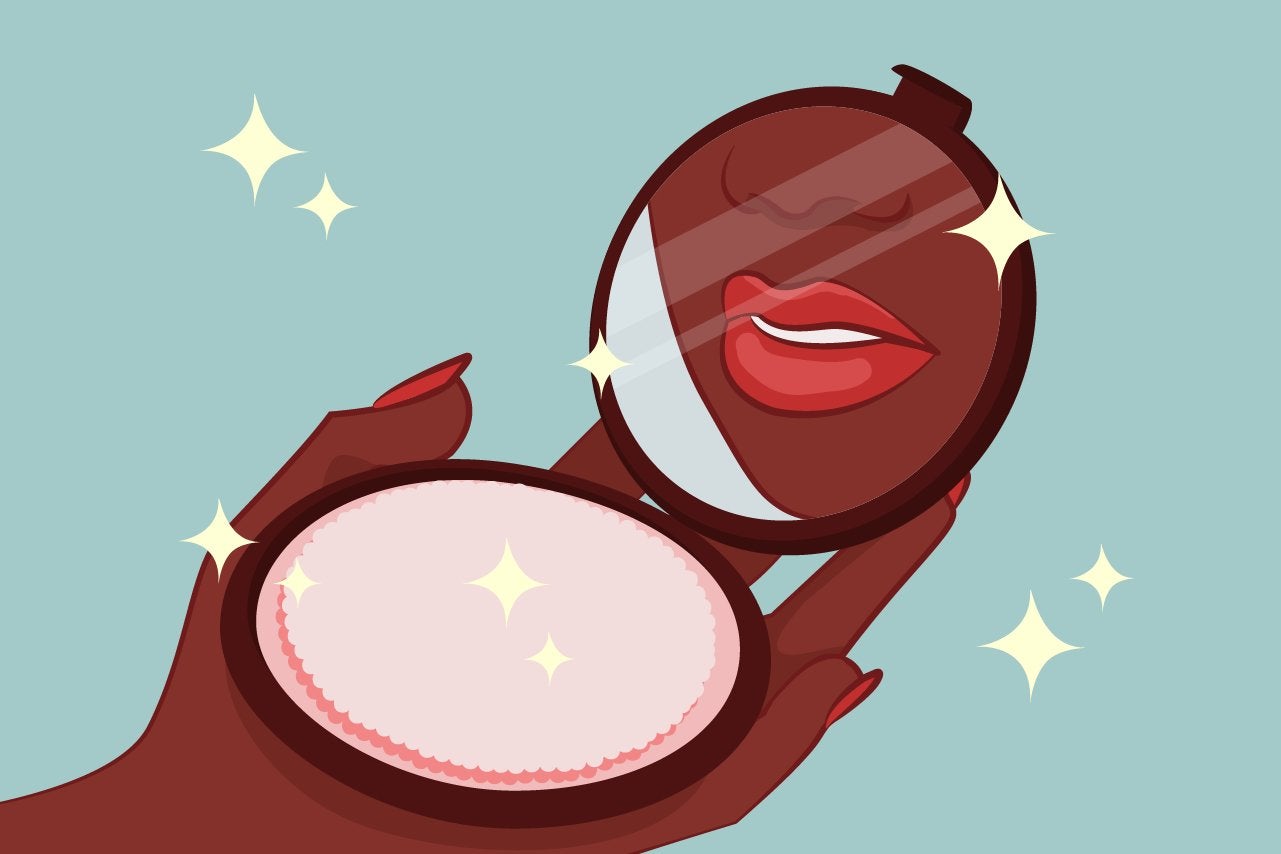 4. Studio Skin Flawless Oil-Free 24 Hour Concealer – Smashbox
I borrowed this product from my mom's collection in early high school. I'm now in my final semester of university, and have yet to return it—the same tube is still holding on for dear life. I've tried half a dozen other products, but I just can't let this one go. Although it's a liquid formula, it's never creased or settled in my fine lines. It's also my perfect shade match (although I don't know which one it is because the label rubbed off years ago.) Sleep is scarce in the Hunger Games, so dark under eye circles are abundant. I have the utmost faith in this concealer to keep me looking my best from the first cannon till the last.
5. Makeup Mist & Set – e.l.f.
Another drugstore holy grail—this setting spray is insanely good. I'm not exaggerating when I say I cannot put on a face of makeup without ending with this product. It's holding and hydrating, and revives my makeup when it's starting to slip. It's also alcohol and fragrance free, which my sensitive skin appreciates. The bottle gives a heavy mist, so a couple sprays leaves you totally locked in. If there's one thing I'd need as a tribute, it's protection against sweat. I know from nights out wearing this product that it can withstand dancing in a hot and crowded club, and probably endure harsh conditions in the arena.