Mercedes' Lewis Hamilton is unarguably one of the best drivers the sport has ever seen. As he continues to elevate to legendary status, his growing fan following remains ever-interested to know more about the star. Coming to their aid, Lewis opened up about his personal life in a recent interview, speaking about his likes, his dislikes, hobbies, and even some of his fears.
ADVERTISEMENT
Article continues below this ad
In conversation with Vanity Fair, Hamilton revealed how there are rather few things in the world that scare him. Being an adrenaline junkie, the seven-time world champ loves outdoor activities like skydiving, rock climbing, and surfing in his free time. However, what terrifies him the most are spiders.
ADVERTISEMENT
Article continues below this ad
Talking about his childhood, Lewis shares a story that he believes is where his arachnophobia took root. Lewis explained that his sister made him watch the movie 'Arachnophobia' when they were little. And that's where it all began for the Brit. He states his fear now has grown to the point that he cannot even stand a picture of the eight-legged insect. Furthermore, he adds that he understands when people are amused at what sets the champion to spiral.
He said, "People say: 'Dude! You drive around at 200 miles an hour! … And I'm like, in terms of fear factor, that's easy for me. I guess we're just all wired differently.'"
Having shared that, he also told Vanity Fair about a standard practice he performs when he visits hotels. Notably, he's not very proud of it. "It's pathetic, but I do," he said, revealing how he scans the room to make sure his arch-nemesis hasn't set base. This, however, is also the reason why he always requests a room on the highest floor.
These pesky little beings aren't the only thing that stresses the seven-time champion, though.
Lewis Hamilton's take on driving on public roads
In an extensive chat with Vanity Fair, Lewis talked about his experience driving on the roads of Nice. Hamilton admits to finding the experience of driving on public roads to be strenuous. For a person who makes a living out of racing, you'd think the man loves speed wherever he'd be. But this isn't true for Lewis Hamilton.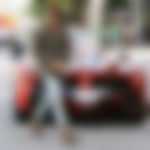 ADVERTISEMENT
Article continues below this ad
He explains that public roads pose a threat of uncertainty. Unlike the F1 track, with pedestrians, traffic, and the uncertainty of 'anything' happening, the racer sums up the difference to be rather 'stressful'.
He said, "I just think that I find it stressful. I try not to do things that don't add to my life. Look, we're on these roads, anything can happen."
For a man who generally drives at a lightning speed, people would expect him to own a sports car. However, Lewis debunks this myth as he claims that nowadays he only drives a small electric Smart car.
ADVERTISEMENT
Article continues below this ad
Watch This Story: Lewis Hamilton Unleashes Psychedelic Speed Demon With !00 Million Worth Artist
Having followed the GOAT for all these years, there seems to be plenty we still don't know about him and are only finding out now. How much do you think you know about the F1 great?