"It's a nice way to play around with characters that you might not necessarily get cast as in live action."
Over the years, tons of celebrities have lent their voices to animated movies and shows but when viewers actually tune in, it can sometimes be tough to put a name to the voice. In fact, many stars that make cameos in animated projects totally fly under the radar without anyone realizing they're the voice behind the character on the screen. And when fans later discover that these beloved characters have a famous face behind them, it can come as quite a surprise!
Find out which celebrities you may have heard in animated flicks…
1. Michael Cera – Brother Bear, The Berenstain Bears
Back when Michael Cera was a teenager, he voiced Brother Bear on the PBS Kids series "The Berenstain Bears." Michael's voice was featured on numerous episodes of the show over the course of several years before he aged out of playing the character. In addition to his role on "The Berenstain Bears," Michael also worked on "Rolie Polie Olie" and "Braceface."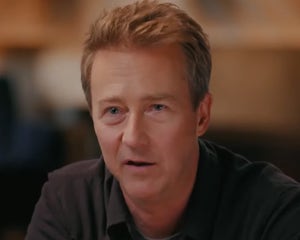 Youtube
Edward Norton Learns Pocahontas is His 12th Great Grandmother

View Story
2. Christian Bale – Thomas, Pocahontas
Christian Bale has lent his voice to quite a few animated productions, perhaps most notably playing British explorer Thomas in "Pocahontas" alongside Mel Gibson, who voiced John Smith. In addition to the classic Disney flick, Christian also took the lead in Studio Ghibli film "Howl's Moving Castle," where he voiced main character Howl.
3. Fergie –  Sally Brown, Peanuts
When singer Fergie was just a kid, she voiced Sally Brown in several 1980s "Peanuts" movies as well as "The Charlie Brown and Snoopy Show." After playing the role of Charlie's little sister for several years, she also took on the role of Lucy. At one point, she even got to meet "Peanuts" creator Charles M. Schulz.
"I've done voice overs all my life. I was Sally for two years and then Lucy for one year, amongst other characters. I like to play with different voices," Fergie once told MTV News.
4. Kelsey Grammer – Sideshow Bob, The Simpsons
While "The Simpsons" often recruits celebrities for guest appearances, there's actually one celebrity who has lent his voice to a prominent recurring character on the long-running show. Kelsey Grammer portrays Sideshow Bob, a character who has appeared in more than 40 episodes. Sideshow Bob, who has become one of Bart Simpson's archenemies, has even been a main character in over a dozen episodes.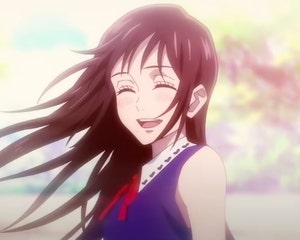 YouTube
Highest Rated Movies of 2022, According to the Critics

View Story
5. John Ritter – Clifford, Clifford the Big Red Dog
Before his passing, John Ritter voiced Clifford in the beloved PBS series "Clifford the Big Red Dog." He was reportedly encouraged to audition for the role by his youngest daughter, who had been a fan of the books. John ended up landing the role, which earned him multiple Emmy nominations during his three-year run on the show.
6. Thomas Brodie Sangster – Ferb, Phineas and Ferb
Fans already knew Thomas Brodie Sangster from "Love Actually" and "Nanny McPhee" when he was cast in animated Disney series "Phineas and Ferb" as the voice of Ferb. While Ferb rarely had lines in the show, Thomas still says he enjoyed his time working on the show.
"I've always enjoyed doing voice work — it's a nice way to play around with characters that you might not necessarily get cast as in live action. That's certainly why I agree to do these things. As a child, I loved anything to do with adventure, traveling the world," he told The Evening Standard.
7. Flea – Donnie, The Wild Thornberrys
During "The Wild Thornberrys" run on Nickelodeon from 1998 to 2004, Red Hot Chili Peppers bassist Flea voiced the family's youngest child Donnie. The little boy was adopted by the Thornberry family as a toddler after his parents were killed by poachers. When the family found him, he was being raised by an orangutan, leaving him in some pretty wild situations —  and leading to Donnie's gibberish language that Flea mastered.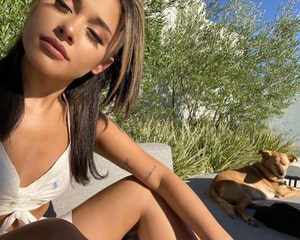 Instagram
40 Celebrities Who Love To Show Off Their Adorable Pets

View Story
8. Matthew Broderick – Adult Simba, The Lion King
Back in the early '90s, Matthew Broderick voiced the role of a grownup Simba in "The Lion King." While the studio chose not to use his vocals for the singing portions of the film, the rest was all Matthew. Ahead of the film's release, Matthew shared that the role was more behind the scenes than a lot of his other projects but he was happy to be a part of it.
"I don't think that I'll be recognized. Some people might recognize my voice but I grew up on these things. I have a niece and two nephews who and I've gone with them to see 'Aladdin' and all that. That I can be in one of these things for their sake alone is fun to me," Matthew said at the time.
9. Tina Fey – Lisa, Ponyo
Tina Fey may be known for her work in comedy but in 2008, she took on the role of Lisa, Sōsuke's mother, in "Ponyo." The Studio Ghibli flick actually featured quite a few celebrities, including Cate Blanchett as well as a then-eight-year-old Noah Cyrus.
10. Meg Ryan – Anastasia Romanov, Anastasia
In 1997, Meg Ryan took on a starring role in "Anastasia" when she lent her voice to portray Anastasia Romanov, a Russian princess raised as an orphan. While working on the film, Meg says she quickly learned a lot about the entire voiceover process.
"I was surprised to learn that we were doing the voice first and they animate later. I don't know why I thought so much of it was done to picture. [Director] Don Bluth would just say, 'Well this is what's happening in the movie.' In your mind's eye you try to find a picture…but they just drew the characters for us. It's such a vague idea of what was really going on," Meg said at the time.
11. Russell Brand – Dr. Nefario, Despicable Me
"Despicable Me" fans may know that the cast includes Steve Carell and Miranda Cosgrove, but some may not know that Russell Brand also had a role! The actor portrayed Dr. Nefario in all three "Despicable Me" films as well as two of the "Minions" flicks.